Leadership in the International Jewish Community
Philip Klutznick entered Jewish leadership in the first half of the twentieth-century. His earliest activities, even in local groups in Omaha and Kansas City, were shaped by growing threats to European Jews, the Second World War and the Holocaust and the founding of the State of Israel.
International B'nai B'rith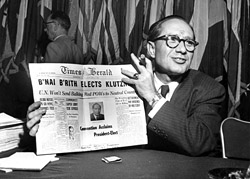 PMK with newspaper announcing his election as president of B'nai B'rith (May 1953)
Klutznick first became a prominent public figure in the international Jewish community in 1953 when he was elected President of International B'nai B'rith. As President, he traveled to Israel and advocated the use of German reparations funds to support Jewish organizations. He was among the American Jewish leaders to meet with President Eisenhower's Secretary of State John Foster Dulles to discuss Middle Eastern policy and events. His presidency focused on strengthening the century-old organization's internal structure and expanding its constituency, and he visited B'nai B'rith districts worldwide, working to strengthen lodges in post-war Europe and Israel. Following his presidency, Klutznick served as chair of the newly-created International Council of B'nai B'rith.
World Jewish Congress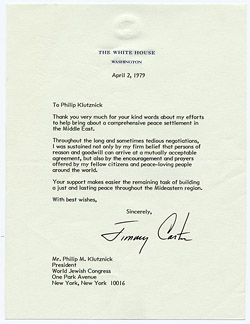 Letter from Jimmy Carter to PMK (April 2, 1979)
In 1977, Klutznick became President of the World Jewish Congress, succeeding Nahum Goldman who had led the group since 1949. The WJC, an umbrella organization of Jewish groups, represents the diplomatic interests of the international Jewish community to governments and bodies such as the United Nations. During negotiations that preceded the 1977 Camp David Accords, Klutznick met with Israeli leader Menachem Begin, Egyptian President Anwar Sadat, and Jimmy Carter, as well as other U.S. administration officials. In 1978, Klutznick initiated a commission headed by Baron Guy de Rothschild to examine the economic implications of Arab-Israeli peace for Israel and the international Jewish community. His strong interest in Jewish communities around the world, including those who were particularly marginalized, is demonstrated by his involvement as WJC head with Latin American, Sephardi, Oriental and Ethiopian Jewish communities, claims by Jews against the government of Poland and the "silent Jews" of the Soviet Union. Another focus of his leadership was Jewish culture, demonstrated in efforts to strengthen and reorganize the Memorial Foundation for Jewish Culture and Beth Hatefutsoth, the Museum of the Jewish Diaspora.
In the years following his service with the WJC, Klutznick contributed both material support and cultural and commercial expertise to the foundation of Beth Hatefutsoth in Tel Aviv, Israel. The Memorial Foundation was established by Nahum Goldmann in 1965 with reparations funds from the German government. It provides both grant support and education for Jewish cultural activities in Israel and the Diaspora. Klutznick's service as WJC President was brief. He took a leave of absence upon his appointment as Secretary of Commerce in 1979, and chose to leave the position to his replacement, Edgar Bronfman, after leaving the government.
Controversial Views
Klutznick's views on Middle Eastern issues were often controversial in the American and international Jewish communities. He considered himself a Zionist and a strong defender of Israel, but encouraged dialogue with Arab groups and leaders. Klutznick's involvement in Middle Eastern affairs led to a brief exchange of letters with PLO leader Yasser Arafat in the early 1980s, mediated through Isam Sartawi. Much more substantial is correspondence with Egyptian Ambassador Ashraf Ghorbal, reflecting a long-term friendship formed with Klutznick during service at the United Nations. In 1975, he served on a "Middle East Study Group," sponsored by the Brookings Institution, which produced a report encouraging both Israeli and Arab concessions and active involvement by the U.S. government.
Writings
Klutznick's retirement from business and public office in the early 1980s allowed him to write freely on controversial issues. "Let's Listen to the Saudis," a November, 1981 column in the Washington Post advocating consideration of a Saudi proposal for Middle East peace sparked many dissenting and supportive responses from the Jewish community in the United States and abroad. In 1981, he traveled to Israel, Saudi Arabia, Jordan, Syria, Egypt and the West Bank as part of a private group to meet with leaders in government, education, military affairs, business and communications, as well as political dissidents. The resulting "Seven Springs Report" attempted to provide a base of knowledge and understanding for the conduct of future negotiations and peace plans. In June 1982, Klutznick joined with Nahum Goldmann, former President of the World Jewish Congress, and Pierre Mendes-France, former Prime Minister of France, to issue the "Paris Declaration," encouraging an end to Israel's siege of Beirut and negotiation with the PLO to ensure regional peace and security. Klutznick's involvement in each of these reports and statements prompted both widespread support and protest from Jewish organizations and individuals.

Preliminary and personal report, visit to Middle East (July 31-August 20, 1981)
Letter from PMK to Dr. Moshe Davis (September 30, 1982)
The 1980s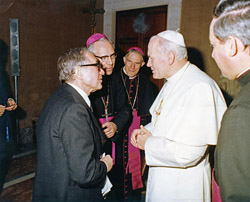 PMK and Pope John Paul II (March 1979)
In the 1980s, Klutznick developed a strong interest in interfaith and intercultural communication, reflected in his involvement with groups such as the National Conference of Christians and Jews and the American-Arab Affairs Council.