From his early years as a wartime housing official and Midwestern Jewish leader, to his decades as a visionary businessman, diplomat, philanthropist and international Jewish and civic leader, Philip M. Klutznick worked to build new communities and to bring peace close to home and around the world.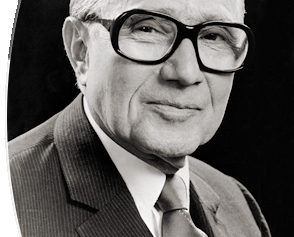 Community Builder, Jewish and Civic Leader, Diplomat

Klutznick was a lifelong leader of the international Jewish community and worked to bring peace to the Middle East. (Read more.)

As a developer and housing advocate, Klutznick helped to build communities in Chicago and around the world. (Read more.)

Philip Morris Klutznick was born on July 9, 1907, in Kansas City, Missouri. (Read more.)
Browse a timeline of important events in Klutznick's life.
Search the University of Chicago's Klutznick database for digitized images of primary materials from the Philip M. Klutznick papers.

Access the finding aid to the complete papers at the University of Chicago Library's Special Collections Research Center.